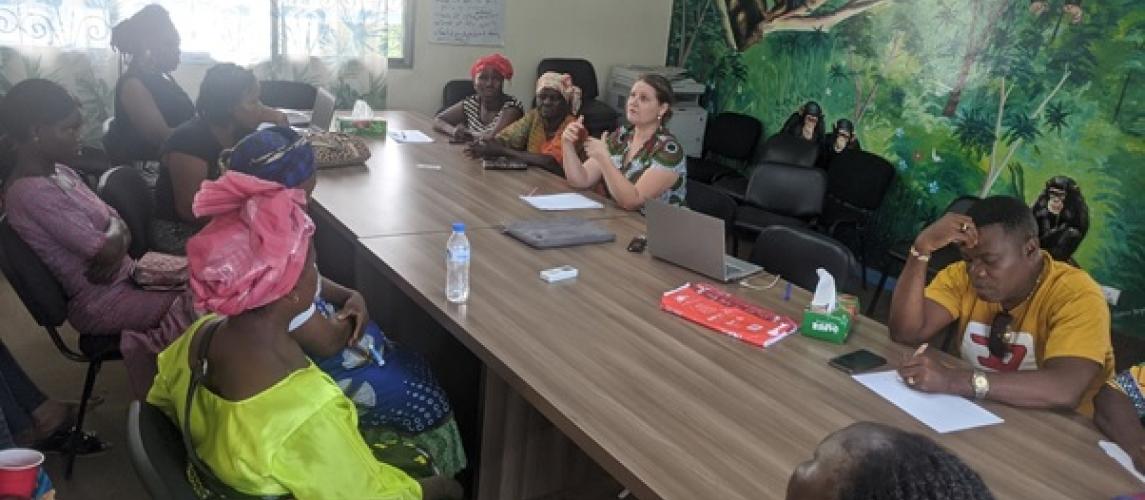 Wild Chimpanzee Foundation Trains Former WOMEN Bush Meat Sellers
Wild Chimpanzee Foundation (WCF) with funding from United Kingdom (UK) Embassy and the European Union has begun training ex bush meat sellers in Monrovia through the Eddie Theater production group.  The training for 12 women commenced on February 23 and it is expected to end on March 1, 2022.
 The market women present in the training, through awareness and sensitization, have already changed selling bush meat in favor of other businesses and are helping to persuade their friends to divert from illegal trade of protected wildlife species to another business.
The ongoing training and sensitization through drama theater performances is also expected to help encourage others who are still in the bush meat trade to stop killing and selling Baboon (chimpanzee) meat, Ants bear (pangolin), monkey, elephant, bush cow and many other protected animals in the Liberian forest. The Ex-bush meat sellers drama team will embark on a national theater tour starting on march 2, 2022 in Buchanan.
This year's World Wildlife Day will be celebrated on March 3, 2022 in Buchanan, Grand Bassa County.   Officials and staffs of the Forestry Development Authority (FDA), members of the diplomatic corps, international partners and government officials in Grand Bassa County are expected to attend.  From March 7 to the 10, 2022, drama team will perform at selected markets in six major towns in Nimba, Bong and Margibi Counties: Ganta, Gbarnga, Gbatala, Zeanzu, Totota and Kakata. The nationwide tour will end with performances on March 16 in Tubmanburg, Bomi County, and March 17, 2022 at Bo Waterside, Grand Cape Mount County.
This activity, implemented in close collaboration with FDA, Liberia Chimpanzee Rescue and Protection and Fauna and Flora International in different areas of the country is intended to create massive awareness among Liberians and foreign nationals about the sustainability of the Liberian forest and its protected species thereof. The whole project is led by and implemented by Liberian women who are seen as the drivers of positive change.
Illegal killing of wildlife, eating protected wildlife, keeping them as pets or trading and trafficking of protected species in Liberia is forbidden by law, and violators are prosecuted, fined or jailed when found guilty.
In her opening remarks for the training, the Country Director of the Wild Chimpanzee Foundation, Dr. Annika Hillers, welcomed the ex-bush meat sellers and made emphasis on international partners' interest in Baboon (chimpanzee) protection, stressing that Baboon has closeness to the human kind.  Additionally, Dr. Hillers praised Liberia for having the largest forest areas as compared to other West African countries, which according to her is good for the survival of baboons.
She assured that in the future awareness will spread across all the 15 counties in Liberia with additional women trained in a shortest possible time to help sensitize the public on illegal bush meat trade and the need to protect wildlife for the future generations and to promote the tourism sector.